1-27-2003
Loads of new features: On the new Official ASB website today, Acclaim has releaased 81 reasons why All-Star Baseball is the best baseball video game out their. Some new features on that list include: In-game save, downloadable rosters, scernario mode, pick-up game mode, multimedia section, manual instant replay, roster saves, user profiles, changing crowds by weather and city, retractable roof states, hand animations, pre and post game animations, between innings cut scenes and camera angles, amateur draft, improved career and season record stat tracking, spring training, additional expansion team options, appeal plays, stadium specific cheers and sounds, batter walk-up music, straight back foul balls, and alot more.
1-26-2003
Long Time, No See: After a long time not updating the site, I fiinally thought "Hey, why not?" So, here is a picof the game box. I have also updated some of the other pages. Enjoy!
2004 Cover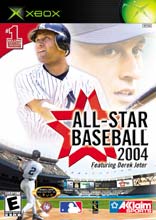 12-30-2002
Register with the Forums: So far we have four members registered in the forums, including me. If you wan't to talk about ASB or other video games, register with the forums and start posting.
12-27-2002
Updated roster for 2003: I posted an updated text roster for ASB 2003 in the downloads page. It has all the complete transactions in MLB from Febuary 1 to December 24 of this year.
12-24-2002
Merry Christmas!: Merry Christmas and Happy Holidays from ASB Stadium!
12-20-2002
Tips and Hints: The Tips and Hints page is up. It has tips for all the systems as well as a complete card list.
New Links and reviews: If you take a look at our links page we added some to Madden Planet, NFL2kx, and Sport Planet. We also added links to reviews for ASB 2003, 2 for each PS2, X-Box, and GameCube.
Other News :Midway announces Slugfeast 20-03 top selling PS2 Baseball game.
12-19-2002
The Forums are up! Ok, the forums are up. Everyone who is interested in talking with fellow AS gamers, thats the place to do it.
IGN's First Look: IGN has posted their first look impressions on the game for the X-Box:

"With over 50 playable reams, 75 stadiums, 200 uniforms, 20 unlockable teams, and an option for Spanish play-by-play, ASB 2004 may end up being the game to get. And don't forget to throw in online play for good measure."
You take a look at it here. Express your impressions on the new game in our forums.
New screens and hi-res movie: From IGN, Acclaim has released a handful of screens and a hi-res, 640X480 movie. The games looking real good so far. Cal Ripkin JR. will also be joinging Jeter in this game.Both the X-Box and PS2 will have online play.
Also, the new game will have a new scenario mode where "Jeter and Ripken introducing real life situations from the 2002 Major League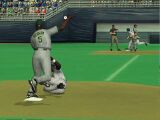 season that gamers will have to survive." The game will also feature new menu's like having a managers desk during franchise and what not, pre-war legendary teams, post-war legendary teams,Negro League teams, and throwback unis for all the teams, like last year. In franchise mode you will be able to start a team from scratch by chosing a city and mascot.

Other News: EA Sports drops Triple Play Baseball series and starts over with MVP Baseball